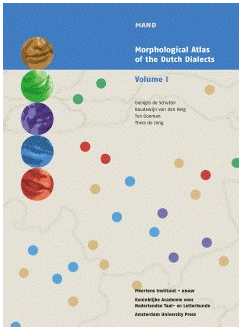 The first volume of the unique two volumed Morphological Atlas of the Dutch Dialects (MAND) has recently been published by Amsterdam University Press.

Each of the 176 maps is accompanied by commentary. Chapters start with a general overview of the subject. The first volume presents pluralisation, diminutivisation and gender.

The MAND is based on phonetically transcribed speech. The speech recordings were made during a period from 1980 until 1995. All transcriptions are available here in their original format.

The fieldwork project is named after the coordinating executives: the Goeman - Taeldeman - Van Reenen Project. All data from this project including search tools and cartographic tools have been published separately from the Atlas on cd-rom.

More on the research and its history can be read here.


TEXT EXAMPLES:
dagen plural
armen plural
inleiding diminutive
bruggetje diminutive
droog-e gender
een open bak gender

MAP EXAMPLES:
armen (Flash)
legenda armen (pdf)
bruggetje (Flash)
legenda bruggetje (pdf)
een open bak (Flash)
legenda een open bak (pdf)

REVIEWS:
Respons 2004
Onze Taal 2/3/2005 (pdf)
Volkskrant 25/06/2005 (pdf)
Vrij Nederland 23/07/2005 (pdf)
Geo-Info 10/2005 (pdf)